After your accident we will:
Recover your vehicle
Arrange a free courtesy car
Advise you on any insurance or legal issues
Deal directly with insurers and manage any claims
Expertly repair your vehicle
Keep you informed of the status of your repair
Ensure only genuine manufacturers parts are used
Perform a free safety check
Guarantee all repair work for 5 years
Contribute up to £150* towards your excess
Assist you in seeking legal support
Return your vehicle home in prime condition, washed inside and out
Based in Bradford so help is just around the corner
* This payment will not exceed 10% of the repair cost
Having a car accident can really shake you up, so the last thing you need is to be worrying  how you are going to get your car repaired, or worse still, how you are going to pay for it
Use KAG and we'll take care of everything for you, from the repair itself, to dealing with insurers, to providing a modern, comfortable courtesy car.
Best of all our service is completely free of charge to you. Bringing your repair to us generally means the insurance company will pay us for the work we do.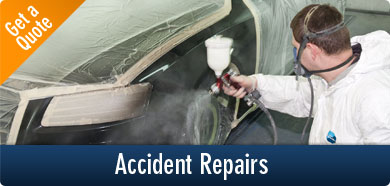 Many people don't realise that you don't have to deal with the insurers yourself, there's no need to get involved in all that paperwork, phone calls and hassle. You have the right to choose how and where your vehicle is repaired.
At KAG we are committed to always providing the highest possible quality of repair utilising the best mechanics, equipment and manufacturer parts.
Let us help – 01274 761 000